---
How to choose the right model of roll grooving machine?
---


Roll grooving machine as a special tool is used to make grooves on various metal pipe ends. The working principle is that the rotating down roller drove by motor makes the pipe rotate, and the upper roller moves down and presses the pipe by shaking the pump handle, then forms the groove. Due to its good performance and no damage on the pipe coating, it is favored by the market.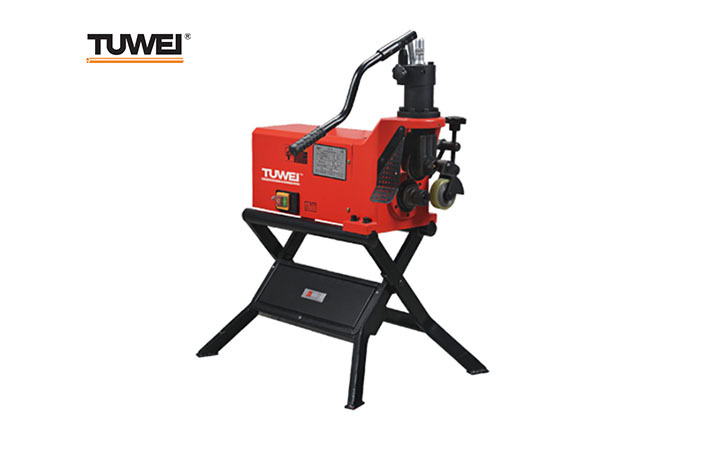 Many manufacturers have launched various roll grooving machines, which make customers feel confused when purchasing. With so many different models, which one is right for you? Today, Victualic-Tuwei company will share you some tips for choosing Tuwei brand roll grooving machine. Let's move on.
1.When purchasing the roll grooving machine, you must clearly understand the pipe characteristics, including pipe material, diameter, length, hardness, etc., as well as other requirements for grooving. If there is a large number of pipes to be grooved, or if you want to improve efficiency, it is recommended to select grooving production line for automatic batch grooving.
2.Understand the technical parameters of various machines, including grooving capacity, wall thickness, voltage, power, speed, auxiliary parts and functions.
3.Match the roll grooving machine with the processed pipe, then determine the type and specification of roll grooving machine. In addition, some manufacturers have customized services. If necessary, you can negotiate with them to produce equipment on demand.
The performance of the roll grooving machine varies from model to model, so you should choose carefully. Victaulic-Tuwei company, as a professional manufacturer of pipe tools, we have various models of roll grooving machine, pipe cutting machine, hole cutting machine, pipe threading machine, grooving production line for you to choose. If you have any needs or doubts about pipe tools, welcome to contact us.
roll grooving machine,manufacturers,machine purchasing skills