---
TWG-9A folding roll grooving machine is as small as TWG-VA-R roll grooving machine. But the working capacity is wider than the model TWG-VA-R. The working capacity is 1" to 8" steel pipe. The machine is designed with folding carriage.
---
folding roll grooving machine
grooving piping connection
PRODUCT INTRODUCTION
● The new model of roll grooving machine TWG-9A including working capacity of TWG-IIIA, TWG-VA and TWG-VA-R, it is more efficient and stable.
● Equipped with stronger power and make rollers change quick and simple.
● Equipped with the new designed folding carriage, it is simple to assemble and move it.
PRODUCT SPECIFICATIONS
● Capacity: 1"-8" ( Φ 33- Φ 219)SCH40 steel pipe.
● Max. wall thickness: 8mm.
● Output RPM: 23rpm.
● G. W: 100kgs.
● Packaging size: 75x41x72(cm).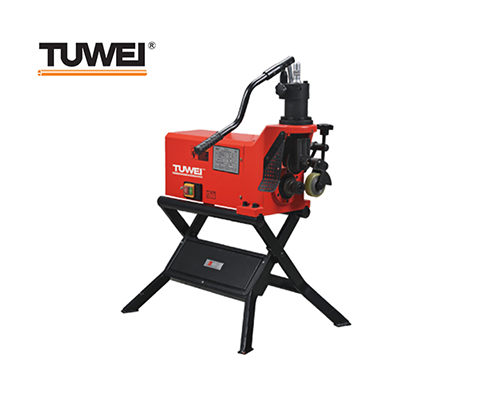 Standard Equipment

*For SCH40 steel pipe

Art. No.

Description

N.W(kgs)

Ref No.

09.02.051

Pipe stand

6.5

(1)

03.01.14.001

Knurl wheel Φ 33-Φ 48

1.55

(2)

03.01.14.002

Knurl wheel Φ 57-Φ 89

1.195

(3)

03.01.14.003

Knurl wheel Φ 108-Φ 168

1.775

(4)

03.01.14.004

Knurl wheel Φ 219

1.635

(5)

03.01.14.016

Pinch roller Φ 33-Φ 48

1.12

(6)

03.01.14.015

Pinch roller Φ 57-Φ 168

0.76

(7)

03.01.14.014

Pinch roller Φ 219

0.665

(8)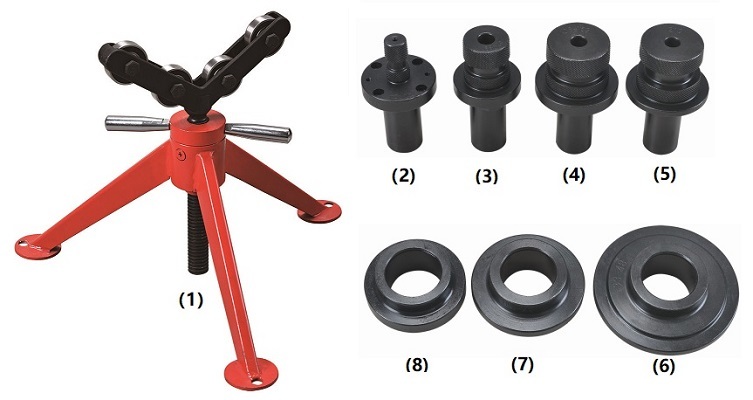 Motor Parameter

Phase

Voltage

Frequency

Single phase

110/120/220/230/240V

50/60Hz

Three Phase

220/380/ 415/ 440V

50/60 Hz
PRODUCT DETAILS
* If groove over 3inch steel pipe please use the guide wheel unit. As image (1)
* The machine foot parts can be folded and stored. As image (2)
* Knurl wheel and pinch roller is easy to install and remove. select the correct size of knurl wheel and pinch roller to groove the steel pipe. As image (3)
* Put the pipe stand onto the 3/4 position. Make the pipe is under 1-2 degree under horizontal. As image (4)