---
This is a Semi-automatic grooving machine for 1inch to 12inch pipe. Interlock designed roll sets ensure A dimension accurately. Equipped with cart to make it more convenient to move it.    Aviation plug structure, make it easy to connect other electrical parts.
---
automatic roll grooving machine
grooved piping connection
PRODUCT INTRODUCTION
● Semi-Auto grooving machine TWG-16A roll sets with "Interlock" design, to ensure A dimension accurately
● Equipped with semi-automatic oil pump, to make it more efficient.
● Cart design, to make it easy to move
● Tool box inside, to provide enough space to place rolls

PRODUCT SPECIFICATIONS

● Capacity: 1"-12" ( Φ 33-Φ325) SCH40 steel pipe
1"-12" ( Φ 33-Φ325) SCH10S SCH5S SCH10 SCH5 thin-wall steel pipe
● Max. wall thickness: 8mm
● Output RPM: 31rpm
● G.W:255kgs
● Packaging size: 1220X1020X860 mm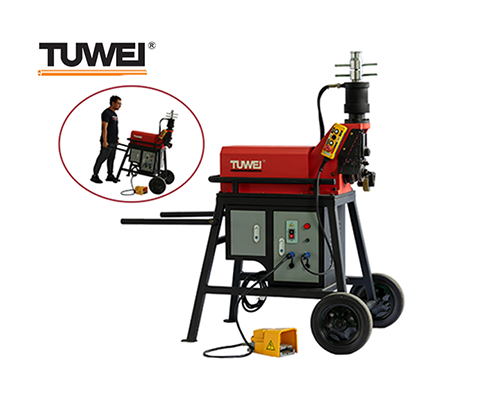 Standard Equipment

*For SCH40 steel pipe

Art. No.

Description

N.W(kgs)

Ref No.

04.04.010

Pipe stand

20

(1)

03.01.29.003

Pinch roller 1"-1.5"

4.16

(2)

03.01.29.004

Pinch roller 2"-3.5"

3.64

(3)

03.01.29.005

Pinch roller 4"-6"

1.74

(4)

03.01.29.006

Pinch roller 8"-12"

1.69

(5)

03.01.29.008

Knurl wheel 1"-1.5"

0.39

(6)

03.01.29.010

Knurl wheel 2"-3.5"

1.97

(7)

03.01.29.011

Knurl wheel 4"-6"

2.51

(8)

03.01.29.012

Knurl wheel 8"-12"

2.56

(9)

03.01.29.034

Adaptor 1"-1.5"

1.19

(10)

03.01.29.035

Adaptor 4"-12"

1.87

(11)

*Reminding: Please select TWG-IVZ if groove large number of 12 inch pipes
Motor Parameter

Phase

Voltage

Frequency

Single Phase

220 /230/240V

50/60 Hz