---
TWG-IIA hydraulic roll grooving machine with a capacity range of 2"-12" steel pipe. Safe operation of the compact and very sturdy construction of this machine. Fine adjustment for groove depth and regulation.
---
2"-12" roll grooving machine
grooved piping connection
PRODUCT INTRODUCTION
● TWG-IIA hydraulic roll grooving machine is designed for grooving 2"-12"steel pipe.
● Powered by high-performance gear reducing motor contributing to compact size and low noise.
● Unique integral hydraulic pump structure and groove depth limitation device ensure high quality grooves and high working efficiency.
PRODUCT SPECIFICATIONS
● Capacity:
2"-12"(Φ 60-Φ 325) SCH40 steel pipe
2"-12" (Φ 60- Φ 325) SCH10S SH5S SCH10 SCH5 thin wall steel pipe
● Max. wall thickness: 10mm
● Output RPM: 23rpm
● G. W: 158kgs
● Packaging size: 78x70x92(cm)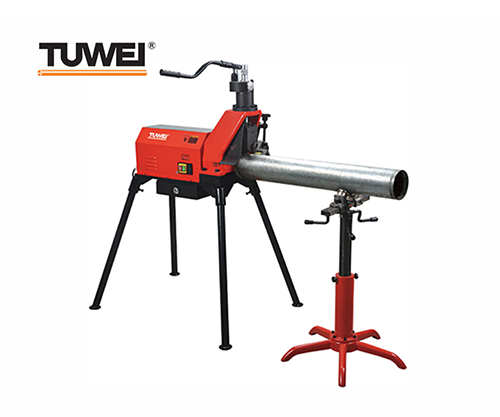 Standard Equipment

*For SCH40 steel pipe

Art. No.

Description

N.W(kgs)

Ref No.

09.02.031

Pipe stand

18

(2)

03.01.01.016

Knurl wheel Φ 60-Φ 76

0.545

(3)

03.01.01.015

Knurl wheel Φ 89-Φ 168

1.265

(4)

03.01.01.014

Knurl wheel Φ 219-Φ 325

1.415

(5)

03.01.01.026

Pinch roller Φ 60-Φ 168

0.885

(6)

03.01.01.025

Pinch roller Φ 219-Φ 325

0.85

(7)

*Reminding: Please select TWG-IVA if groove large number of 12 inch pipes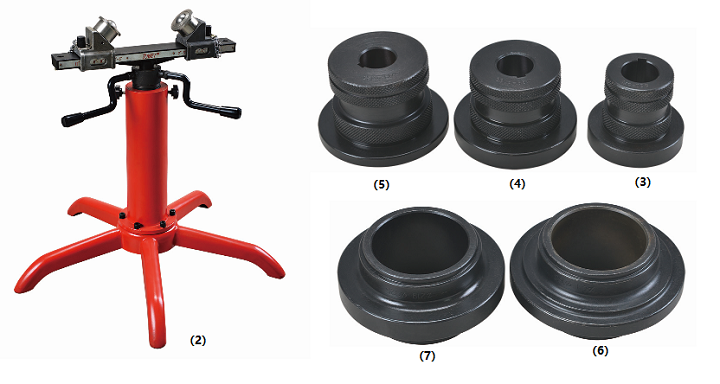 Optional Equipment

*For SCH10S SCH5S SCH10 SCH5 thin wall steel pipe

Art. No.

Description

N.W(kgs)

09.03.009

Knurl wheel Φ 60-Φ 76

0.55

09.03.010

Knurl wheel Φ 89-Φ 168

1.28

09.03.011

Knurl wheel Φ 219-Φ 325

1.43
Motor Parameter

Phase

Voltage

Frequency

Single Phase

110 / 120 / 220 / 230 / 240V

50/60 Hz

Three Phase

220 /380 / 415 / 440V

50/60 Hz