---
1T50 type threading machine driven by the electric motor, the motor adopts brushless permanent magnet synchronous motor, multistage gear reduction, large torque.
---
PRODUCT INTRODUCTION
● Pipe threading machine 1T50 is designed to cut threads on 1/2"-2" pipes It's very easy to operate. Can make the ends of the pipes very smooth when cutting threads.
● Casting body with large module gear box which is very stable and light.
PRODUCT SPECIFICATIONS
● Capacity : 1/8inch to 2inch tube, 1/4inch to 2inch bar.
● Power: 1.8KW
● Output RPM:20rpm/40rpm
● G.W: 120kgs
● Packaging size: 122x77x53(cm)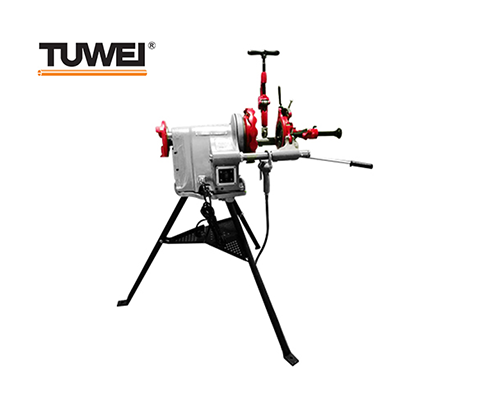 Standard Equipment

Description

QTY

Ref No.

Cart

1set

(1)

Cutting frame

1set

(2)

Reamer

1set

(3)

Dies ½"-3/4" ,1"-2"

1set for each size

(4)

Dynamic system

1set

(5)

Die head

1set

(6)

Note: Available format of dies: NPT/BSPT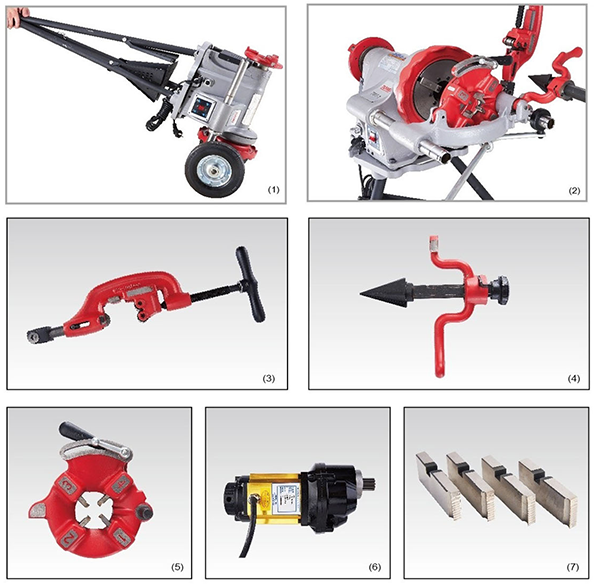 PRODUCT DETAILS
*1T50 pipe threading machine equipped the permanent magnet brushless motor. The power is 1800W. Offering a wide range of speed, small size, high starting torque, accuracy, with smooth turn characteristics; high efficiency, low power consumption, long service life and low noise performance.
*The cart as a driving power with versatile design, can be used as a power drive for many jobs, such as pipe grooving, pipe threading, pipe cutting. It mounted to the TWG-11A manual grooving machine.
*The threading dies are made of high-speed steel. It has a long service life, which can thread at least 7000 to 8000 pieces pipe steel. The proven quality dies with precise cutting geometry ensure an excellent start-cutting performance, easy threading and ensure clean threads.