---
The idea of different sized upper roller combined in one part is the big selling point. The user no longer to worry about losing the upper roller. Based on the cart, make roll grooving machine TWG-VIIA easy to move.
---
grooved piping connection
PRODUCT INTRODUCTION
● Roll grooving machine TWG-VIIA is equipped with a new hydraulic pump system for quick feeding. Make the operation much more easily.
● Different sized pinch rollers combined in one part, no need to undo the pinch rollers when grooving different sized pipes. Just by rotate the pinch roller part user can achieve the shift between different sized pinch rollers.
● Machine body equipped with quick lifting system, four wheels been controlled by one rod. It is very easy to move the machine.

PRODUCT INTRODUCTION
● Capacity :1"-12"( Φ 33- Φ 325)SCH40 steel pipe.
1"-12"( Φ 33- Φ 325)SCH10S SCH5S SCH10 SCH5 thin wall steel pipe
● Max. wall thickness: 10mm.
● Output RPM: 36rpm.
● G. W: 250kgs.
● Packaging size: 117x76x155(cm).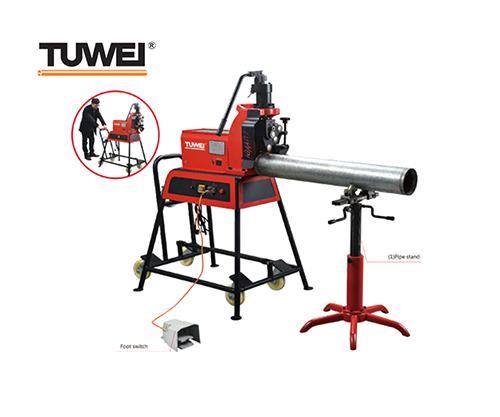 Standard Equipment

*For SCH40 steel pipe

Art. No.

Description

N.W(kgs)

Ref No.

09.02.042

Pipe stand

20

(1)

03.01.13.004

Knurl wheel Φ 33-Φ 48

1.215

(2)

03.01.13.003

Knurl wheel Φ 60-Φ 168

1.59

(3)

03.01.13.002

Knurl wheel Φ 219-Φ 325

2.37

(4)

03.01.13.021

Pinch roller Φ 33-Φ 48

0.41

(5)

03.01.13.020

Pinch roller Φ 60-Φ 168

0.48

(6)

03.01.13.019

Pinch roller Φ 219-Φ 325

0.525

(7)
Optional Equipment

*For SCH10S SCH5S SCH10 SCH5 thin wall steel pipe

Art. No.

Description

N.W(kgs)

09.03.051

Thin wall knurl wheel Φ 33-Φ 48

1.215

09.03.050

Thin wall knurl wheel Φ 60-Φ 168

1.62

09.03.049

Thin wall knurl wheel Φ 219-Φ 325

2.415
Motor Parameter

Phase

Voltage

Frequency

Single phase

110/120/220/230/240V

50/60Hz

Three Phase

220/380/ 415/ 440V

50/60 Hz