---
The manual grooving machine,one good in-place tool
---


Roll grooving machine, generally comes with motor, is efficient and convenient and widely welcomed by workers. However, in some special situation, such as the fixed pipe which can not be moved or fixed pipe where there is no space to place the electric roll grooving machine, a light and portable roll grooving machine is needed. In order to solve this problem, Tuwei launched the manual grooving machine TWG-11A.
The TWG-11A Roll Grooving tool is a portable tool that can be used in conjunction with a power drive for grooving pipe to be compatible with grooved piping products. The standard TWG-11A grooving machine is equipped to groove 27–219 mm Schedule 40 carbon steel pipe. In current stage, it is not available for stainless steel pipe, copper pipe, PVC pipe and so on.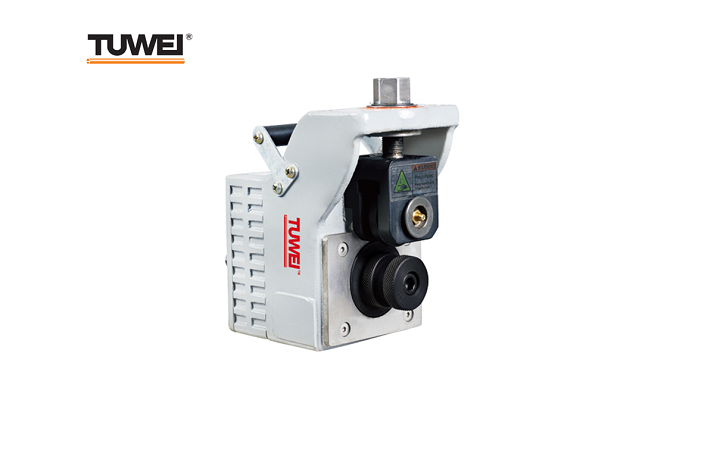 The model TWG-11A is used to groove pipe that is supported by several different methods. When grooving pipe that is supported with a pipe vise. Mount a chain-type pipe vise onto a stand or workbench. The pipe vise should be mounted flush with, or slightly overhanging, the edge of the stand or workbench. When the tool is mounted on the pipe, the tool must be able to rotate freely around the pipe without being obstructed by the stand or workbench. Position the pipe to overhang the pipe vise by approximately 8 inches, so that the tool can rotate freely. Mount the tool on the pipe, then turn the groove diameter adjustment nut clockwise to lower the upper roll until the tool rests snugly on the pipe. Sometimes the pipe is fixed and can not be removable, but the pipe need to be grooved, in this situation, operators should be confirmed that pipe hangers must be capable of handling the weight of the tool and the manual effort required to operate the tool.
Except above operation, the model TWG-11A can be attached to a power drive using the provided drive shaft adapter. In this way, manual grooving tool will become an electric grooving machine. as this model is using feeding nut to achieve groove depth, so the groove depth can not be adjusted in place by one time, but we have set one graduated circle for customers' reference. when the feeding nut turns one cycle, the upper roller moves 1.5mm, one graduation mark equals to 0.05mm. customers have to use PI tape to measure whether the groove depth is in place, if not, fix pipe and make groove again.
All in all, the manual grooving machine TWG-11A is an ideal tool for some special situation.
roll grooving machine,manual grooving machine